I love lists, so it's no wonder I love this little 10 on Tuesday Linkup!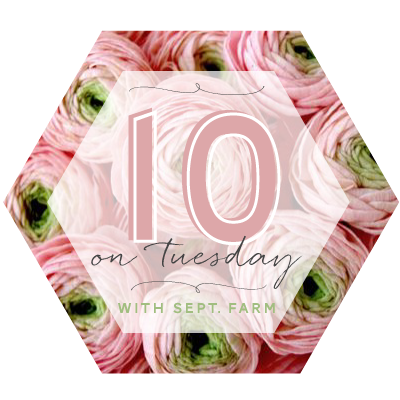 Today I'm sharing 10 Habits I wish I were better at (or that I am currently working on)...
1 /
Not being a procrastinator.
In school and now even in life in general, I thrive on putting things off until the last minute. I always have ideas in my head of how I want things to go or my plans for what I will do, but don't actually start doing them until it's down to the wire. As you can imagine, my plans don't always work out the way I intended.
2 / This leads to me to my next habit of
being more flexible
. Hey, we all know life happens. I have always struggled with letting things happen or "go" as they say. When life doesn't go how I want or expect, I want to be more flexible and go along with the new plan.
3 /
Not being so anxious or such a worrier.
I literally worry about every imaginable thing. I'm trying to accept the fact that there is no sense in worrying about things that may or may not happen. Take things as they come and deal with it then.
4 /
Getting up early every weekday morning.
There is something about waking up before the sunset and having those few moments of quiet to yourself that make for a great day.
5 /
Writing down my thoughts, dreams and feelings.
Instead of carrying around everything in my head, write them down on paper for safe keeping. This means blogging on the regular too.
6 /
Making people feel good.
I love that saying that people will always remember how you make them feel. I love making people feel good and sometimes the smallest gestures, like remembering someone's birthday and sending a handwritten card is just what someone needs to make them smile. Be the good in someone's day, there's already enough bad out there.
7 /
Letting go.
This means both letting go of things or people who do not bring me joy. There's no reason to hold onto anything that does not either serve a purpose or help you feel/be a better person. Let it go!
8 /
Being active everyday.
Self explanatory, but it is truly a struggle!
9 /
Being the best as good of a version of myself as I can be.
Taking care of myself will make me a better wife, friend, sister, auntie, daughter, person as well. Take the high road even when it's harder, lead by example and stop comparing myself to others.
10 /
Never stop learning
. I'm a self-proclaimed nerd and love to learn things. I've always wanted to go back to school, but aside from that there are always things I wish I knew how to do. I never want my fears of what could be stop me from acquiring new skills.
That about wraps it up for today. Are there any habits you can relate to? Tell me I'm not alone in this!